I forbindelse med klubbens 10-års jubileum inviterer Norsk Stabijhoun Klubb til
Offisiell spesialutstilling
med utdeling av stort cert (NKK cert)
Lørdag 19. august 2017
på Rustberg Camping, Øyer (20 km nord for Lillehammer, 7 km nord for Hafjell og 10 km fra Hunderfossen.)
Dommer: Angèlique Plasman, Nederland
Påmelding:
Elektronisk på web via NKK eller
manuelt til NoSK v/Synøve Reiten, Jarveien 4c, 7072 Heimdal eller e-post synrei@online.no
Bankgironummer 1503.06.56854
Husk å merke betalingen med hundens navn og registreringsnummer.
Frister for påmelding og betaling, og påmeldingsavgift:
Ordinær: 19. juli 2017. Voksen hund kr 320,-, valper kr 200,-
Utvidet: 29. juli 2017. Voksen hund kr 370,-, valper kr 250,-
Rabatt: F.o.m. 3. påmeldte hund med samme registrerte eier – halv avgift (gjelder ikke valper).
Overnatting:
Ta kontakt med Rustberg Camping, tlf 61 27 77 30, www.rustberg.no
Spørsmål rettes til Synøve Reiten, 909 86 621, synrei@online.no,
Kenneth Johannesen, 907 80 926, kenneth@stabyhuset.com eller
Britt Pinderud, 917 63 658, kennel@naessgarden.no
Utstillingen avholdes samme helg som NKKs internasjonale utstilling på Lillehammer 19. og 20. august.
VELKOMMEN!



Hi, my name is Angélique Plasman and I was asked to judge the Stabijhoun at the special dog show in August to celebrate the 10 year anniversary of the NoSK. I felt very honoured so of course I said yes. Let me introduce myself to you.

We got our first Stabij in 2001 when our youngest of 4 kids just started school. Mickie was a wonderful dog! She started out as a family pet, but her versatility and willingness to work soon lured us into competing in obedience trials and retrieving working-tests, at which she both excelled. My interest in the Stabijhoun got greater and greater and I wanted to help preserve the breed. I started taking all sorts of classes and courses to expand my knowledge of the breed, breeding puppies, genetics, behaviour and other dog-related topics. We got our second Stabij in 2005 and started our kennel Fan'e Sudewyn. I got very passionate about the Stabijhoun as a breed.

I haven't bred many litters, as I'm writing this my fourth litter is just 2 weeks old. My main interest in breeding is genetic diversity, health and character. Looks are less important to me, so it won't be a surprise that I didn't have any ambitions to become a show judge. But the courses that led to becoming one were very interesting and educational, so I took them. I learned that health, gait and conformation are directly linked to one another. And I learned that I could contribute to the breed as a judge by writing good reports that can help a breeder choose a suitable partner for a bitch. So I decided that taking the final course and exams couldn't hurt. I had no idea that judging would become such a passion …

So I'm very excited to be coming to Norway in August and keen to see if the Norwegian population differs from the Dutch one. I'd love to see your dog(s) as well. Will you come?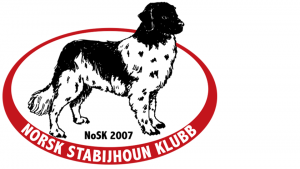 In conjunction with the club's 10th anniversary, Norwegian Stabijhoun Club invite to
Official Special Dog Show
with the possibillity to receive Norwegian Kennel Club CAC
Saturday 19th of August 2017
on Rustberg Camping, Øyer (20 km North of Lillehammer, 7 km Nord of Hafjell and 10 km from Hunderfossen.)
Judge:  Angèlique Plasman, The Netherlands
Entry: 
Electronic  at web via NKK or
manual to NoSK v/Synøve Reiten, Jarveien 4 C, N-7072 Heimdal, Norway or e-mail synrei@online.no
Bankaccount IBAN: NO06 1503 0656 854 and BIC: DNBANOKKXXX
Note payment with the dogs name and registration number.
Deadlines for registration and payment, and registration fee:
Ordinary: 19th of July 2017. Adults NOK 320,-. Puppies NOK 200,-
Extended: 29th of July 2017. Adults NOK 370,-. Puppies NOK 250,-
Discount: From the 3rd registered dog with the same registered owner – half entry fee (not puppies)
Accomodation:
Contact Rustberg Camping, tel +47 61 27 77 30, www.rustberg.no
Questions to Synøve Reiten, +47 909 86 621, synrei@online.no,
Kenneth Johannesen, + 47 907 80 926, kenneth@stabyhuset.com
or Britt Pinderud, +47 917 63 658, kennel@naessgarden.no
The dog show is held the same weekend as Norwegian Kennel Clubs International dog show at Lillehammer 19th and 20th of August.
WELCOME!